Election Day! Vote and Help PDA Make a Difference!
By Donna Smith, Executive Director – Progressive Democrats of America
UPDATE: Progressive Democrats of America (PDA) challenged ourselves to recruit 100 new sustainers—donors who support PDA with automatic monthly payments—by Election Day. We now have dozens of new Change Makes Change sustainers toward our goal. We still need a few dozen more, Folks, and we can do it if we all help out. If you're not yet a sustainer, will you please click here now to help us reach our goal of 100 new sustainers by today?
– Debra Schrishuhn, PDA Staff
Below, please see the list of House candidates Progressive Democrats of America (PDA) endorsed, listed by state and district. We need Bernie Sanders as the Chair of the Budget Committee, and we can't have a President Trump. If there's an election for Senate in your state, please vote for the Democrat. A Democratic Senate Majority means Bernie Sanders will chair a committee, and a Democratic Senate will be more responsive to our needs than an anti-progress GOP majority.
Russell Freedman (MA, $200/month sustainer) writes, "I am a monthly sustainer for PDA and glad to do it. I have 4 grandchildren and I give some money each month in their names: Sam, Jake, Max and Rosie. From climate change to healthcare, peace, and justice, I feel that PDA gives me the biggest bang for my buck and the best investment I can make for the future of all of our kids and grandkids."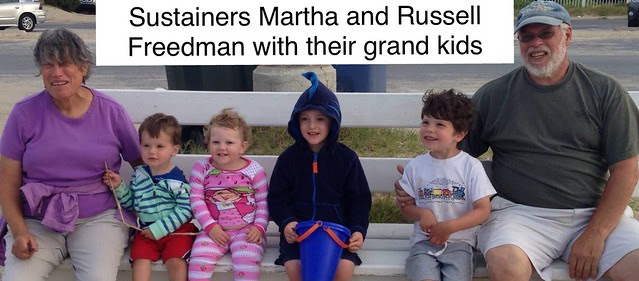 Jenise Porter, (AZ, $10/month sustainer) writes, "What I love about 'Change Makes Change' is that I don't have to remember when or how much I last gave to PDA. My contribution is helping to move our political system to the left without me even having to think about it."
Dawn Dershem, (CA. $75/month sustainer) writes, "My monthly donation is my way of supporting those of you who are working so hard to make my dreams come true… As I get older, it becomes more difficult for me to take physical political action, but I can still share my limited retirement check with PDA who will continue to do this important work for me."
Please join Russell, Jenise, Dawn, and many of us as a monthly sustainer.
To achieve the progress we need, we still need dozens of new sustainers today, Election Day. We want to recognize those who dig deep to help sustain PDA as monthly sustainers. "Change Makes Change" helps us more budget and make plans by relying on a steady flow of your generosity. Thank you! We couldn't do anything without you. If you're not yet a sustainer, please click here now to help us reach our goal of 100 new sustainers by Election Day.
My husband Larry and I have been PDA sustainers for years. We see these donations as investments in a better future—for us, and like Russell, especially for our kids and grandkids. We want to leave them a more peaceful, livable world with guaranteed high quality healthcare for all, and a meaningful voice in their workplace, community, and nation. Please click here now to help us reach our goal.
Here are the PDA House Endorsements, listed by State and District:
AZ-03 Rep. Raul Grijalva
AZ-04 Michael Weisser
CA-13 Rep. Barbara Lee
CA-21 Emilio Huerta
CA-23 Wendy Reed
CA-33 Ted Lieu
CA-44 Nanette Barragan
CA-45 Ron Varasteh
CA-46 Bao Nguyen
CA-49 Doug Applegate
CO-04 Bob Seay
FL-17 April Freeman
FL-25 Alina Valdes
GA-04 Hank Johnson
HI-02 Tulsi Gabbard
IL-09 Rep. Jan Schakowsky
MA-02 Rep. Jim McGovern
MD-08 Jamie Raskin
MI-13 Rep. John Conyers
MN-05 Rep. Keith Ellison
MN-08 Rep. Rick Nolan
NJ-07 Peter Jacob
NJ-12 Rep. Bonnie Watson Coleman
PA-07 Mary Ellen Balchunis
WA-07 Pramila Jayapal
WI-02 Rep. Mark Pocan
WI-05 Khary Penebaker
Note: there are several other strong progressives running, but they either didn't seek our endorsement, or else didn't agree to support enough of our progressive policy priorities. PDA has an exacting endorsement policy. We urge you to get involved with PDA after the election to help guide our decisions moving forward, and to vote for all the progressive candidates on your ballot!
PDA is working to pressure Congress by sending more progressives there, and by challenging comfortable incumbents with Progressives. Please pitch in $500, $50, or whatever you can to help us send Progressives to Congress! Money tight? Then sign up with Mike "Phone Guy" Fox to make calls from your own home.
In solidarity,
Donna Smith for Deb, Mike H, Judy, Mike F, Janis, Dan, Kim, Amos, and Teva
Your Progressive Democrats of America National Team
P.S. We're here to help you make progress in your state and locality! If you need any help organizing a new PDA chapter or energizing your existing chapter, please contact PDA Field Coordinator Judy Hess.